The Quintessential Greek Yogurt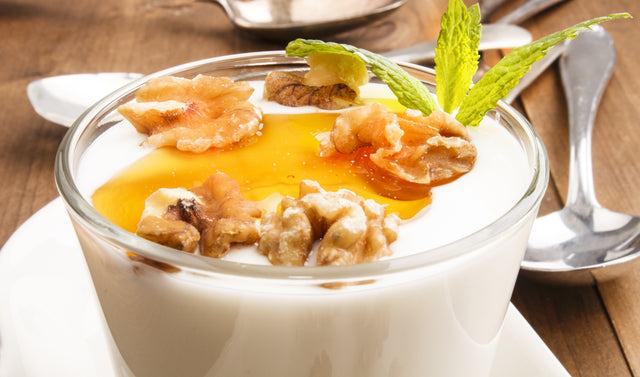 Greek yogurt has become popular for good reason - it is healthy, protein rich, and tastes spectacular, whether savory or sweet, and is an important part of the mediterranean diet. But how do Greeks typically eat their famous yogurt?
In Greece, you will see one preparation to rule them all - whether for breakfast or dessert, and that is greek yogurt with greek honey and walnuts. As with all greek recipes, it's all about the ingredients.
Ingredients:
1 small bowl of greek yogurt
2-3 tsps of greek honey
¼ cup walnuts - whole or crushed
Greek Yogurt
Almost every brand of dairy producer seems to have a "Greek" yogurt. True Greek yogurt is made with a blend of milks, often including a some combination of cow, sheep, or goat milk. Fage is a true greek yogurt and is still made by the same greek family since its inception in 1926 - the same recipe for over 90 years. This family takes on an ancient tradition that has existed for thousands of years in this region.
Greek Honey
Greek honey is arguably the best in the world. Ancient foods has gone to great lengths to find true artisanal producers who know how to find the perfect spots for their bees to forage and bring back the amazing flavors of the flowers, herbs, and trees of the mediterranean. The greeks and italians know that combining special ingredients from the same part of the world creates a special pairing that is ethereal.
Walnuts
Walnuts are incredibly healthy and nutritious. They are particularly rich in antioxidants, Omega-3s, and fiber. They also add a wonderful texture and crunch to this recipe.
Directions:
Spoon greek yogurt into a small bowl, drizzle Ancient Foods honey on top, and sprinkle the walnuts on top. Enjoy!