Plant Based Greek Moussaka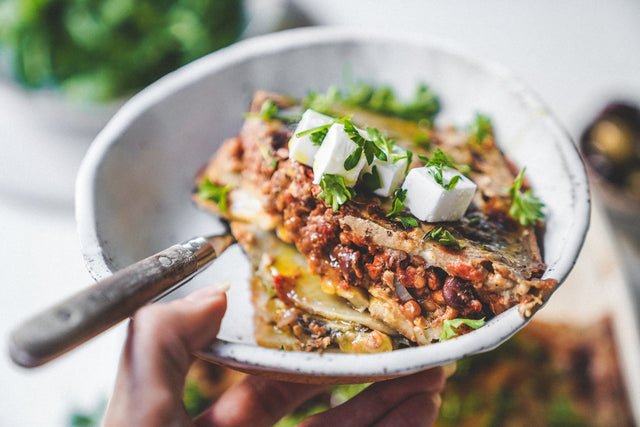 By Maria Koutsogiannis - FoodByMaria
Some of my favourite things to cook are traditional Greek dishes with a vegan or plant based spin. This plant-based moussaka is no exception; it's filled with potatoes, zucchini, eggplant, and lots of delicious olive oil. I love making casseroles, they are so warm and rich, the ultimate in comfort food!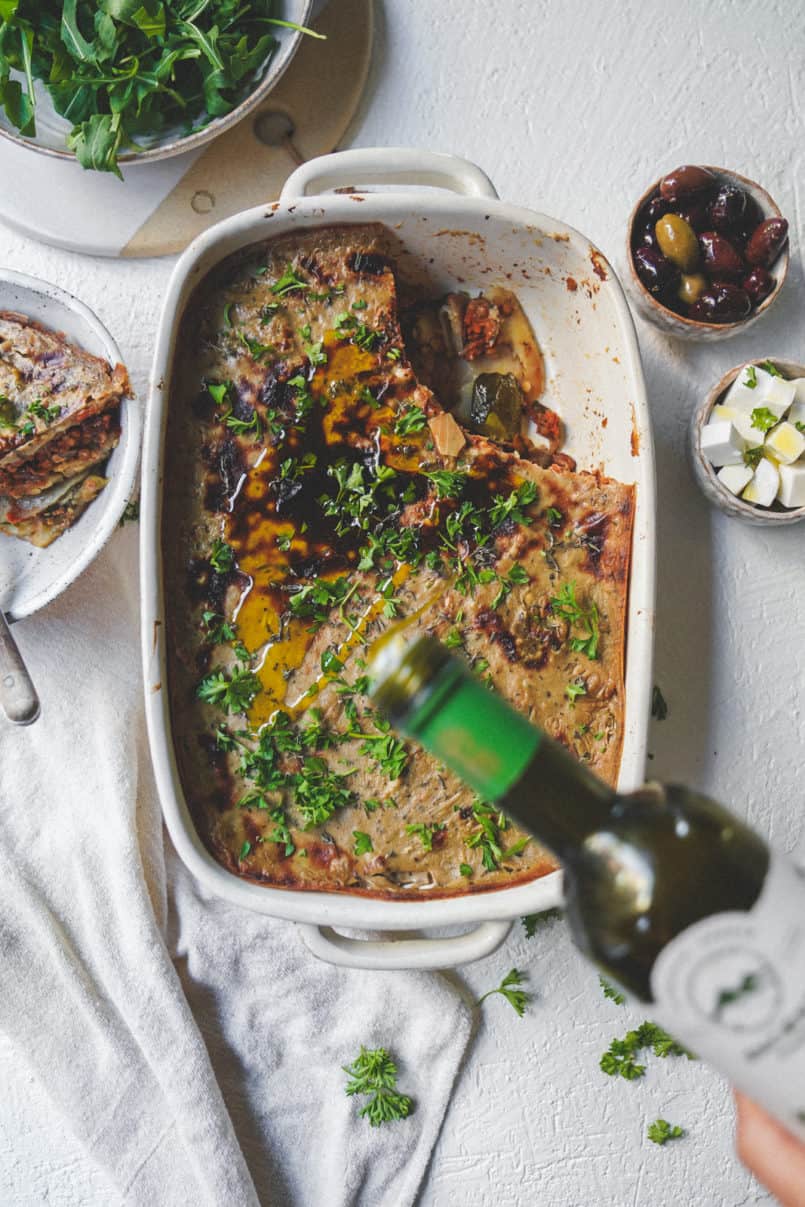 PLANT BASED GREEK MOUSSAKA
 Prep Time:

20 minutes

 Cook Time:

1 hour 20 minutes

 Total Time:

1 hour 40 minutes

 Yield:

8-10

 Category:

Main Dishes

 Cuisine:

Greek
---
INGREDIENTS
For the Vegetables:
3 large white russet potatoes, peeled and cut into 1/2-1/4 inch slices
1 large eggplant, cut into 1/2- 1/4 inch slices
2 large zucchini, cut into 1/2-1/4 inch slices
4-5 tbsp Keros olive oil
season to taste
2 tbsp dry oregano
For the Lentil Meat Sauce:
3 tbsp. Keros olive oil
1 large white onion, finely chopped
3 cloves of garlic, finely chopped
Season
2 tbsp. dry basil
1 tbsp. dry oregano
1 tsp vegetable stock paste
1/2 tsp cinnamon
1/4 tsp cloves
2 400ml can of brown lentils, strained and drained
1 400ml can of black beans, strained and drained
600 ml crushed Roma tomatoes
1 tbsp. Coconut sugar or white sugar is fine too
For the Oat Milk Béchamel:
4 tbsp. vegan butter
4 tbsp. all purpose flour
3 -4 cups oat milk
2 tbsp nutritional yeast
1/4tsp cinnamon
1/8 tsp cloves
season to taste
dash of lemon
---
INSTRUCTIONS
Preheat your oven to 400F and line three baking sheets with parchment paper.
Cut your peeled potatoes, zucchini and eggplant and evenly coat with Kero olive oil, seasoning and oregano. Cook potatoes till soft, eggplant till tender and golden brown and zucchini till most of it's liquid has evaporated.  The reason we're pre cooking them is so there is no moisture in the baking dish for the moussaka.  You want this to be a mix of perfectly crispy and creamy, not watery!
To prepare your "meat" sauce all you will need in one deep pot.  Start by pre-heating your Keros olive oil and adding your onions.  Cook them down on medium-low heat for around 5 minutes or until soft.  Add in your garlic, salt + pepper, basil, oregano, stock paste, cinnamon and cloves and give your mixture a good stir.  Cook for 3 or so more minute on medium-low heat.  At this point your home should smell fabulous.  Add in your lentils, black bean, tomatoes and sugar.  Give it all a good stir before turning heat to low and popping on a lid and reducing for around 20 minutes.  You want the sauce to reduce enough that it's thick but not stew like!  Once cooked set aside.
For the bechamel, add the butter to a pot on the stove and heat it at medium to low heat. As the butter melts, sift the flour and add to the pan stirring vigorously, don't stop. Keep stirring and let it cook for a bit.  Don't let it burn and if it sticks to the pan then turn down the heat.  Begin adding the milk, cup by cup, and stir using a whisk.  Your heat should still be on medium-low and continue to add milk as it gradually thickens. Add milk till you get to the right thickness (you will probably notice bubbles developing).
Once you've reach your desired thickness, remove from heat and stir in nutritional yeast, cinnamon, cloves, salt + pepper and your lemon!  Give it a taste for seasoning before setting aside.
To assemble your Moussaka grab a deep casserole dish and lightly grease with olive oil.  Begin layers by adding your potatoes, then zucchini, then eggplant.  Then add a generous layer of "meat" sauce and top with your bechamel.  Cover with tin foil and bake for 30 minutes.  Remove tin foil and bake for another 10-15 minutes.   You will know it's ready when the bechamel is more firm and less giggly when you shake the dish. Finish on broil (keep your eyes on this) for around 2-3 minutes to get that nice brown finish. Top with fresh thyme for serving!
Moussaka goes great with Greek Salad and feta (there are so many amazing plant based versions).
---
NOTES
Any leftover "meat sauce" will last up to one week, in the fridge, in a tight sealed container.
The Moussaka will last up to one week, in the fridge, in a tight sealed container.