Plant Based Greek Mezze Platter Drizzled in Olive Oil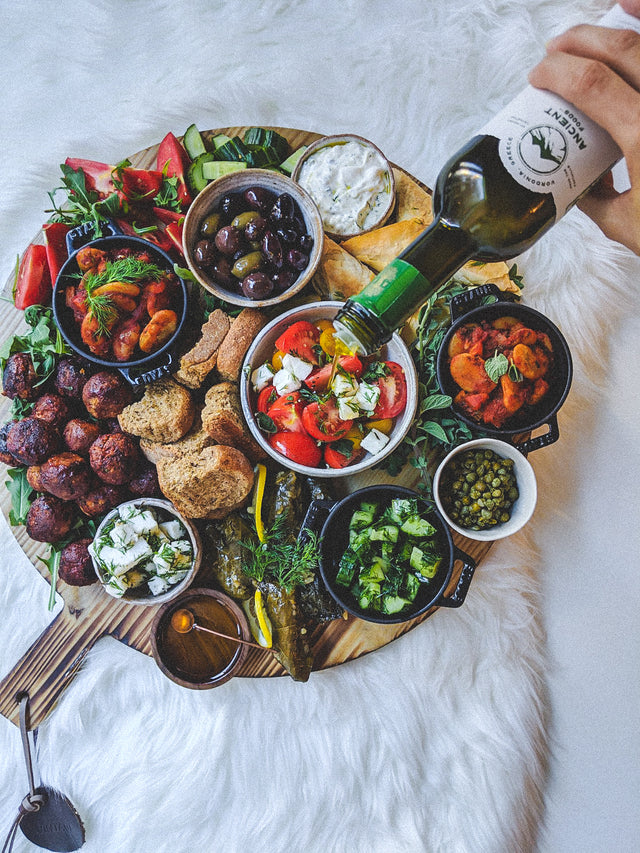 By Maria Koutsogiannis - FoodByMaria.com
This plant based Greek platter drizzled with Ancient Foods Keros Olive Oil will please all of your guests. I've included three plant-based recipes to really elevate your platter game. Even if you're having a party for one…at home…in your pj's… these recipes are super easy to whip up and snack on.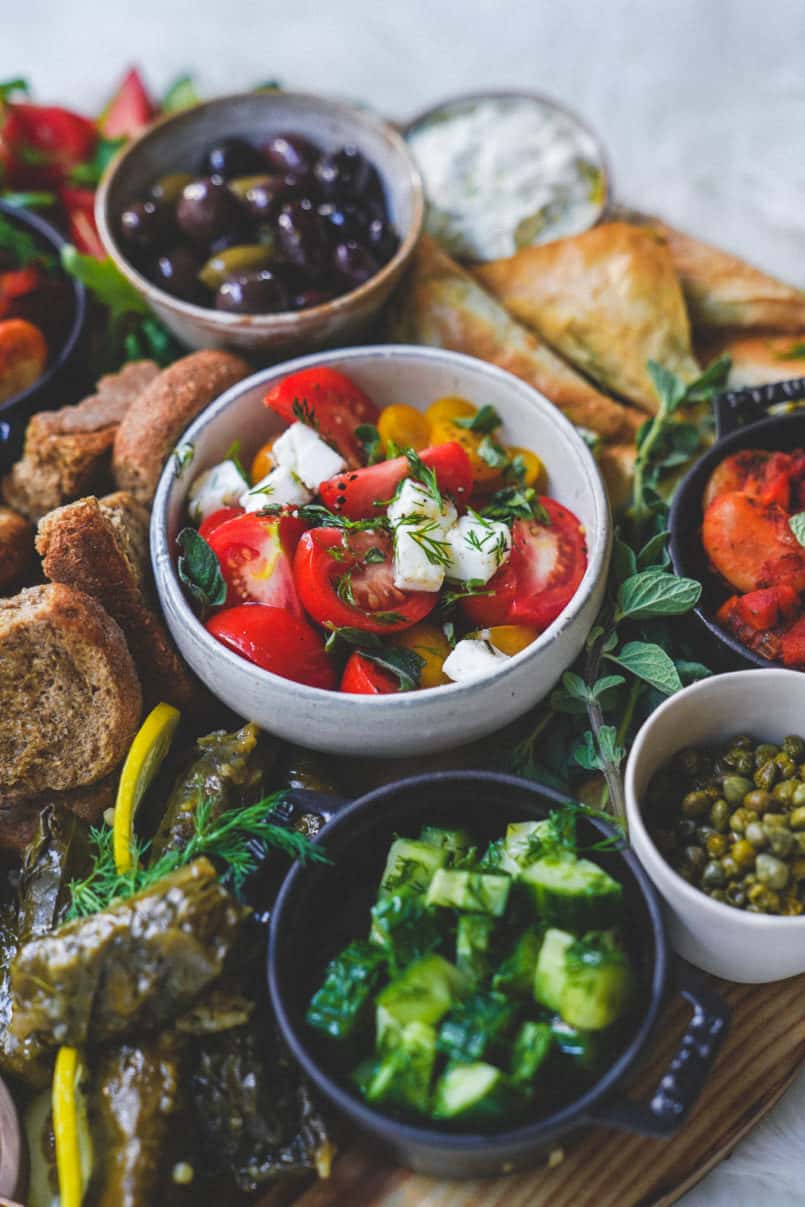 OLIVE OIL RUNS IN MY VEINS
Growing up in a Greek household olive oil was a staple, and we put it on everything. I was taught at a young age that simple quality ingredients are the key to delicious, rich, flavourful meals. This mindset is evident in most traditional Greek dishes and I carry it through my cooking and recipes today. One of my favourite things to eat when I was little was fresh tomatoes from the garden sprinkled with a little salt and drizzled in rich olive oil. My mother swears by olive oil as the original and beauty super food (move over coconut oil)! She even puts it on her skin and in her hair for its unreal health and moisturizing benefits.
So truth be told, I was so excited when I discovered Ancient Foods Keros Olive Oil! Finding a high quality olive oil that reminds me of Greece and my family was such an inspiration for this platter. Like my favorite tomato salad, this platter highlights simple and fresh ingredients.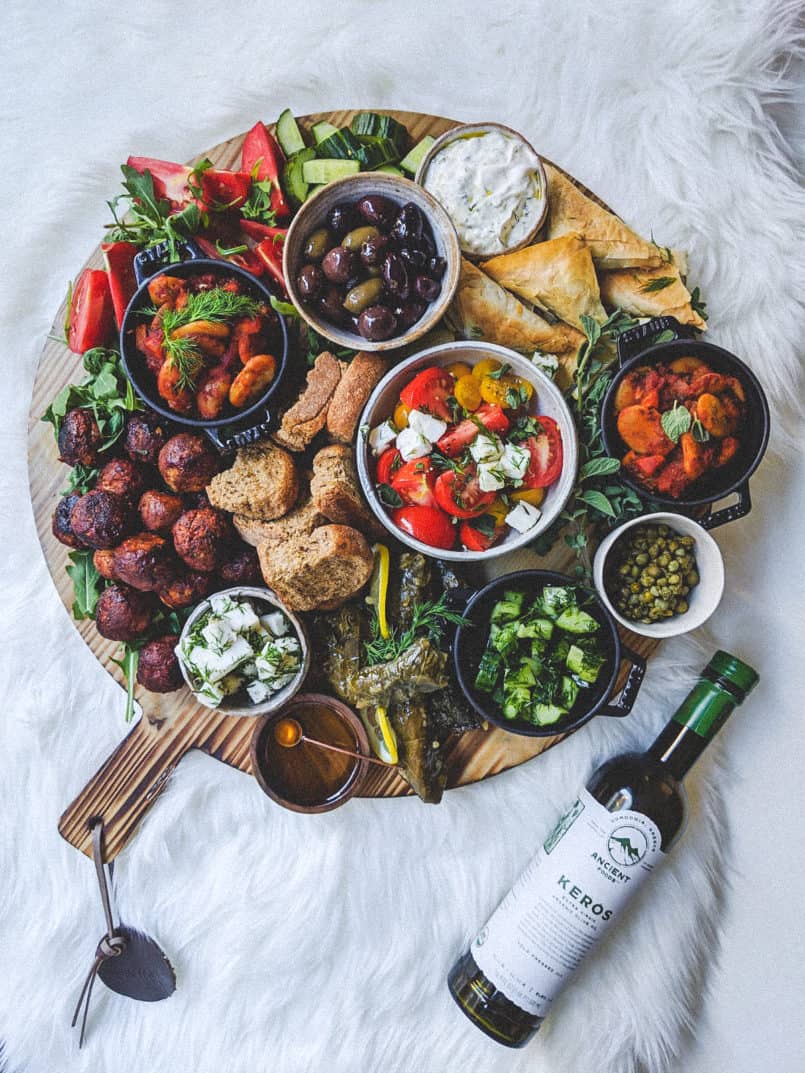 HIGH QUALITY OLIVE OIL
Like I've said before, not all olive oil is created equal and it is important to find a sustainable high quality brand. Ancient Foods Keros Olive Oil comes from Sparta, Greece and the name actually means "The Perfect Moment". If I'm being honest, every moment is the perfect when it comes to Greek food and olive oil! Keros is an extra virgin olive oil, and that is important-let me tell you why. To be considered "extra" virgin, the acidity levels must be under 0.8% and meet flavour standards. Keros Olive Oil is even more special and rare because it actually has an acidity of less than 0.1% which gives it amazing flavour. This olive oil also comes from a unique variety of olive tree (Athenoelion) which gives a buttery yet peppery and complex flavour. It works so well with food and truly highlights the ingredients in my recipes.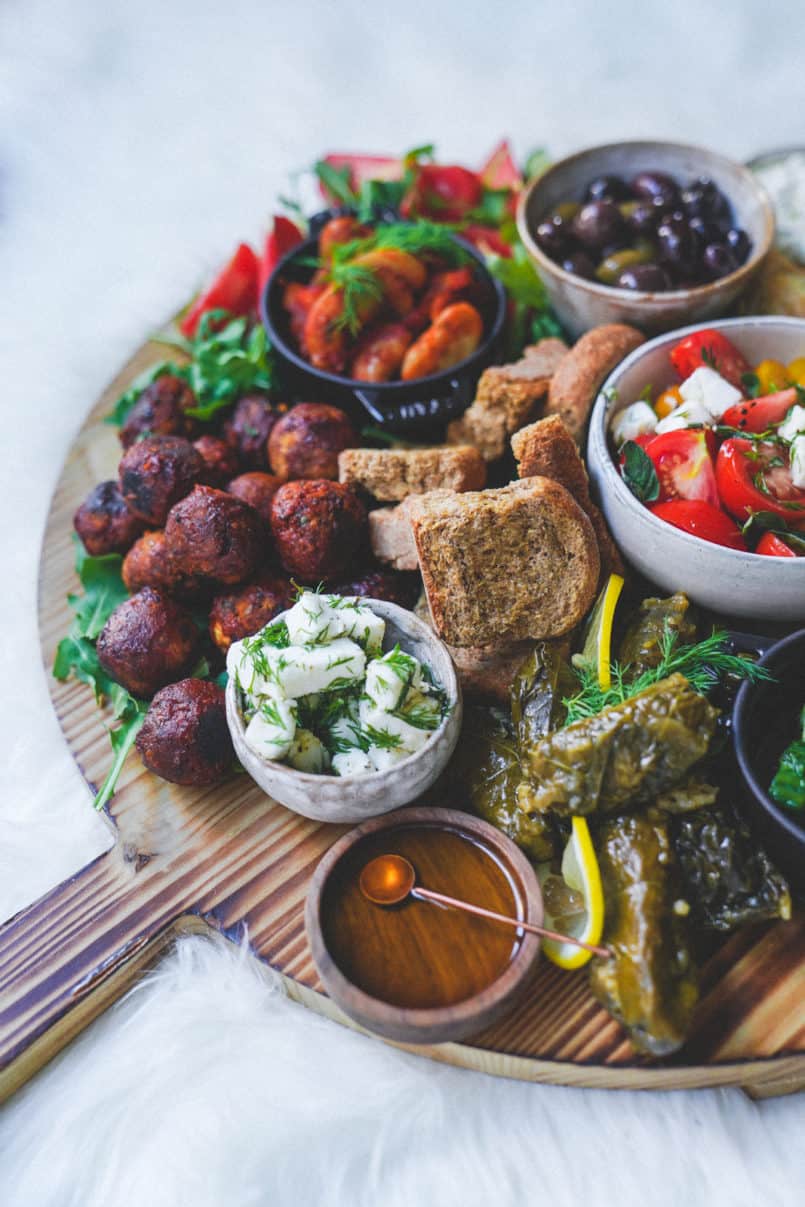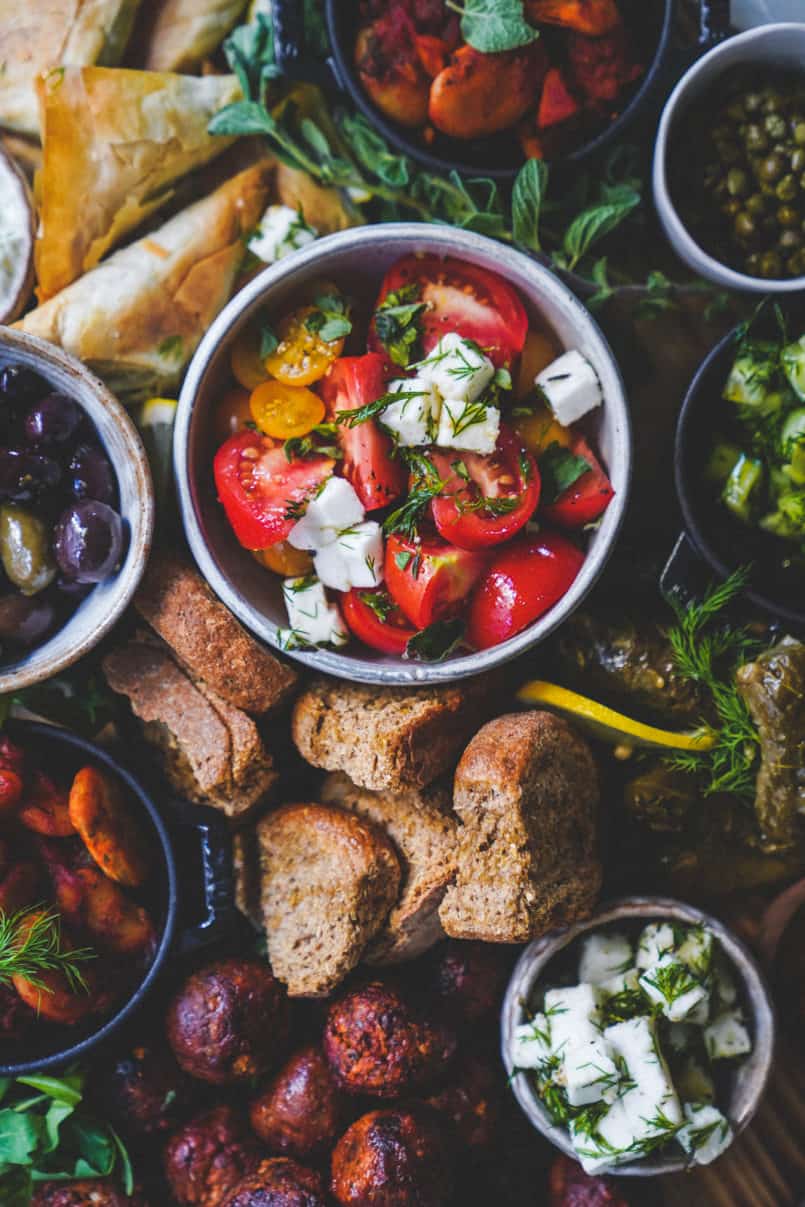 PLANT BASED PLATTER ACCOMPANY
Now that I've got olive oil in your belly and on your skin, you're all set to finish this plant based platter off with some traditional Greek dishes. Below is a list of my favourite additions for these dips. The flavours really compliment each other and the vibrancy is really amplified with a drizzle of olive oil. Literally sprinkle some olive oil on everything!
Being able to carry on family traditions and share my Greek background with you is why I love doing what I do. This platter is super easy to make and is such a strong reflection of everything I love about food. Don't overthink it and just remember:
Use a high quality olive oil; I love using Ancient Foods Keros Olive Oil
Stick to simple fresh ingredients
Do as the Greeks do and drizzle that olive oil on EVERYTHING!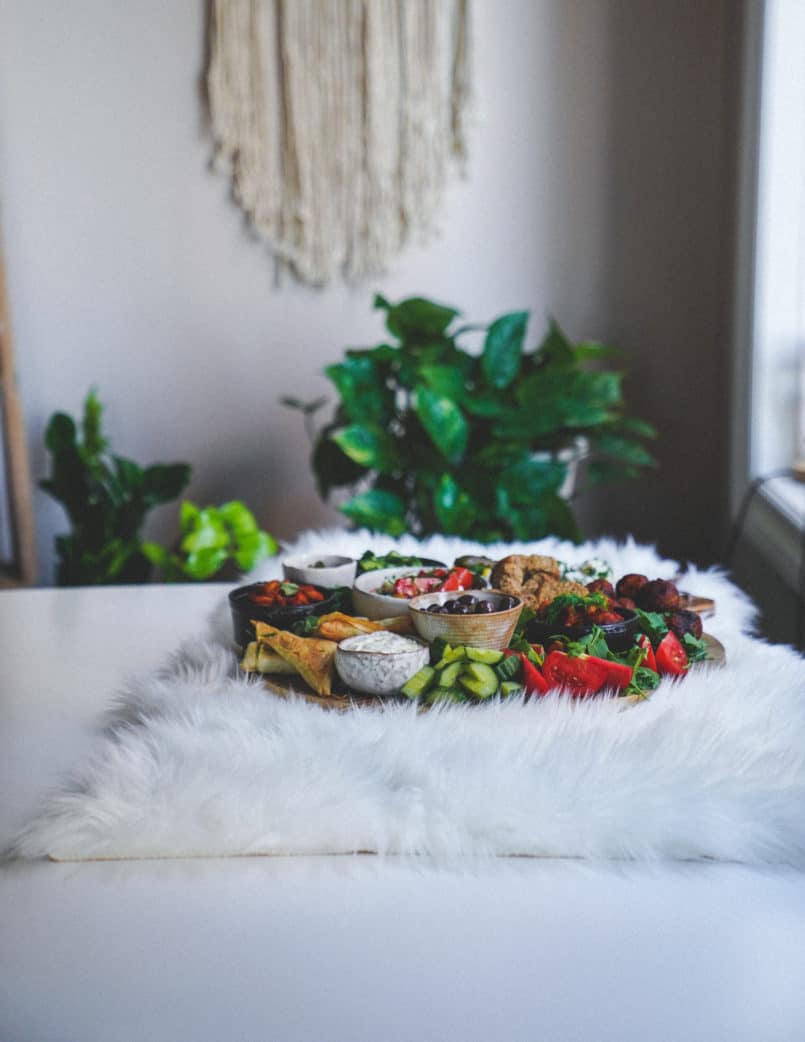 I've put together three perfect recipes for you to include in your everyday-busy-life or even a platter for your next gathering or party.  I love these three recipes because they remind me so much of my childhood and truly bring me back to a place of simplicity and honest food, something we all know I love and believe in.  Using Keros Olive Oil was a game changer and really made me feel like I was back in Greece.
TRADITIONAL GREEK LIMA BEAN
INGREDIENTS:
4 tbsp. Keros Olive Oil 
1 medium sweet white onion, finely chopped
3 cloves of garlic, finely chopped
1 cup carrots, finely chopped
1 cup celery, finely chopped
season to taste
dash of cinnamon
dash of cloves
1 400 ml can of lima beans, strained and drained
600 ml tomato puree
1/4 cup fresh dill
1/4 cup fresh parsley
METHOD:
Into a medium sized pot heat up 2 tbsp. of olive oil and add your onions and cook for 5 minutes or medium heat.  Stir in your garlic and cook for another minute or two. Add in your carrots and celery and cook for around 7 minutes, with lid on on medium-low heat.  Check on your veg and once tender add your seasoning and Lima beans.  Give it all a stir and make sure you're seasoned well enough. Add your tomatoes, dill and parsley and simmer for another 15 minutes before serving with more parsley garnish, vegan feta and a generous drizzle of the remaining olive oil! Enjoy and thank me later 
A SIMPLE TOMATO SALAD DRIZZLED WITH KEROS OLIVE OIL
INGREDIENTS:
an assortment of fresh tomatoes, cut into chunks and lightly dusted with salt
3 tbsp Keros Olive Oil
2-3 tbsp lemon or vinegar
seasoning
vegan feta – as much as you'd like
2 tbsp. fresh oregano
METHOD:
Simply add all the ingredients onto a serving dish or platter and drizzle with high quality oil.  This is traditional greek snack and I must say it is quite perfect! If you can get to a Greek store try to get your hands on some Paximathia.  If not, serve with crunchy bread and your favourite plant based cheeses.
PICKLED CUCUMBERS IN DILL
INGREDIENTS:
1 large cucumber, cut into cubes
seasoning
1/4 cup fresh dill, finely chopped
4 tbsp. Keros Olive Oil
3 tbsp. fresh lemon
METHOD:
Add the ingredients into a bowl, stir and let sit for 20 minutes before serving.  The simplest ingredients can truly make the most precious platter accompaniments.
Serve on Crackers with a Vegan Tzatziki and Crackers!