Meet Mihali - Cretan Artisan of Olive Oil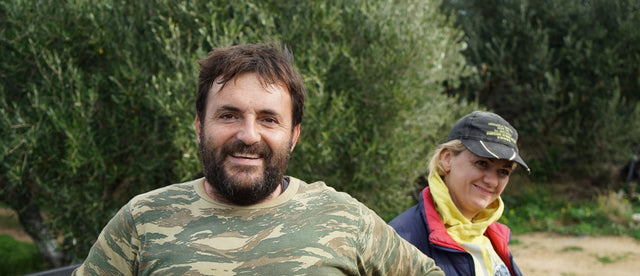 Mihalis Zahardiadis is passionate about artisanal products. When he isn't distilling raki, a grape based brandy or making homemade wine he can be found working in his families olive groves in Sitia, Crete. Mihali comes from a long line of olive farmers that have been producing olive oil for generations.  
His father, Emanuel, helped renovate the olive mill in the village in the outskirts of Sitia. Mixali could have moved to Athens but choose to live in the village and do what he loves most, produce extra virgin olive oil of the highest quality.  When we met up with Mihalis in farm his wife, Voula, was the first to greet us. They were busy harvesting olives and loading their jeep with sacks of olives. Voula not only helps her husband but is also a very busy mother of 3 children. When the Jeep was full of olive sacks, we headed to the mill to cold press his olives and taste the freshest olive oil together with a little homemade wine, cheese, bread and fresh tomato.  An unforgettable day but that's just one of many similar days in the life of Mihalis.
That evening his mother hosted us for an unforgettable family dinner in their ancestral stone home in the village.  Multiple courses of fried cheese pies, greek salads, stamagathia and horta - boiled greens with lemon and olive oil, fresh cheese, snails, a rustic bread from barley husks called paximadi, fried potatoes in olive oil, roasted goat with potatoes & risotto are served with some homemade wine and shots of raki.  The night is capped off with Voula's homemade galaktoboureko, a semolina custard pie with filo and sweetened with honey.