Meet Yianni, Craftsman at the Foothills of Mount Taygetos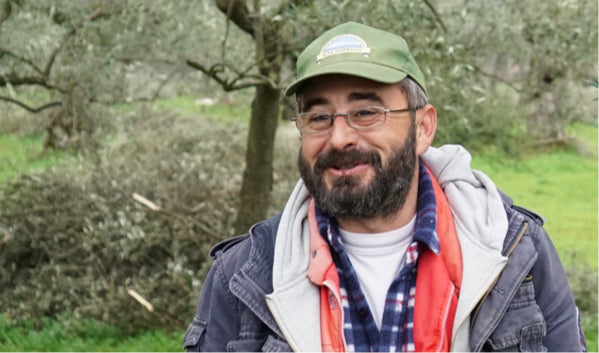 Yianni Kalomiris asked us to jump in the back of his small, red pickup truck that looked like it was built in the 1980s and felt like a workhorse that had seen it all. He was going to show us the olive groves around his hometown of Vordonia, which is located in the foothills of the mountain range Taygetos outside of Sparta. We held on white-knuckled as the little pickup made it up the steep hillside traversing dirt, gravel, rock, and grass between olive trees that looked hundreds if not thousands of years old. He would stop every few minutes and point out small plots of rocky, sloped land and tell us whose plot it was and even if a particular ancient tree had been given to another family as a dowry. He knew every nook and cranny and every tree in those mountains around his village.
Yianni explained that the only way to harvest olives in this area was the old fashioned way - by hand - with considerable expertise needed to harvest and transport the olives to the press. He is the head of the pressing operation as well, and the local farmers share the one olive press in the village to produce some of the most incredible oil from the oldest trees we have ever seen, all growing in the rocky, hillside terrain. Being among such majestic trees with their gnarled trunks and bountiful branches was something that touched our soul. Each tree seemed to have an essence and personality that you could feel. It would make us want to come back just to have that feeling again and again.
Afterwards, he took us to his mother's house. A little yellow house next to the town square and church with an ancient water well which was undoubtedly used by the whole village in the past. There were no markings on the house, but his mother Maria runs a small taverna for locals on certain nights and cooks local specialties in her wood oven. Her specialty is roasted lamb cooked with the incredible olive oil, lemon, and large amounts of fresh oregano from the mountains that come out like tasty bunches of edible greens.
Yianni then poured some of his own homemade wine, made from Moschofilero grapes he cultivates as well. The table was covered with a dozen different dishes that included cheese that Yianni made and olives that he prepared the ancient way - two small incisions made by hand in each olive and then brined over weeks and finally marinated in vinegar made from Yianni's own wine. The Greek salad was incredible. Everything was organic and prepared the way the ancients did. We were just outside of what was ancient Sparta and realized how special this moment was. Most importantly, we realized what a gift it was to have Yianni keep these ancient traditions alive and give us the opportunity to experience and taste these foods.
Yianni can be shy and humble, but he is very proud that we are bringing his olive oil for more people to enjoy, and that is his father behind the donkey in that old picture on the bottle of Kerós. Ancient foods will continue to support him and his family so everyone can enjoy these healthy foods for generations to come.